POS Blog
Insight on POS Solution Selection for Independent Merchants
Maximizing ROI from your POS Solution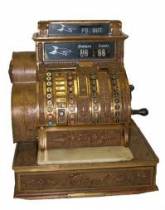 The cash register was invented in 1879 by James Ritty. James Ritty was a saloonkeeper in Dayton, OH whose bartenders often pocketed the profits instead of turning them over to their boss. James' brother John was a mechanic who helped him design the first, most basic of cash registers to preserve profits in their saloon. The original device did not even provide a drawer for storing cash. It consisted of a series of keys that represented specific amounts of money. The concept came to Ritty while he was on a steamboat trip to Europe. He found himself intrigued by a device that counted the number of rotations in the ship's propeller. Brilliant!
Since 1879, the cash register has evolved quite significantly. The most basic of cash registers (similar to Ritty's original) can still be purchased at office supply stores and on the web. Extremely sophisticated and more expensive cash registers can be purchased through dealerships that provide service agreements and of course, on the web as well. Although PC-based and Mac-based automated POS solutions are readily available today, thousands of cash drawers are still in place in storefronts, bars and cafes all around the world.
Clearly, many independent merchants have not fully embraced the POS technology available in the information age. Today's modern POS solutions provide a multitude of features and benefits that even the most expensive and sophisticated cash drawer cannot deliver. Most automated POS systems are more compact, more robust, and easier to operate and comparably priced. Yet merchants continue to deploy newer versions of a device that was invented in the 1800's.
In talking with merchants in the field, I find that much of this stems from a "don't fix what isn't broken" mentality. Others fear that deploying automated POS solutions might be complex and/or expensive. Some even fear that the data trail created by a POS solution might negatively affect their business tax situation with the IRS. Others simply don't seem to understand the benefits or realize the ROI generated by today's modern POS solutions.
Below are just a few benefits of automating the business via a modern POS system:
1. Speed of Service
· 1-5 second transaction times – even with credit cards
· Eliminate manual calculations and hand-written sales orders
· Eliminate lines that frustrate your customers
· Train employees in minutes
2. Customer tracking and communication
· Track customer activities and purchasing history
· Email promotions, events, news, coupons to the customer base
· Communicate with prospective customers
· Use data gathered by POS transactions to target your communication
3. Inventory and Pricing Controls
· Eliminate all user errors on pricing, payment processing, etc.
· Stop inventory shrinkage
· Order what you need when you need it, not what the vendor tells you
· Reduce waste and overstock
4. Reporting Power = Decision Making Power
· Reports can be automatically emailed to you on a schedule
· Know when you are busy and slow to make staffing decisions
· Know what customers frequent the facility, what they buy while they are there and when
· Know what products and activities yield the best profits at your facility
5. Cash Management/Security
· What gets measured gets managed
· Every transaction is time stamped and tracked for accountability
· Reduce time spent reconciling cash and credit cards
· Work toward removing cash altogether through automation
Clearly, this is a very small sample of items to consider when weighing the pros and cons of cash register VS POS solution. If you are an independent merchant debating the upgrade from a cash register to POS or just getting started with your business and would like to learn more about things to consider, download our free checklist today.
As a POS (point-of-sale) solution provider, we see a great deal of underutilization of functions and features far too often. Business owners make the commitment and the investment to automate their retail or hospitality operations. Typically, a great deal of time and energy is invested in selecting the appropriate solution provider. However, after implementation, many POS solutions quickly become glorified and expensive cash registers.
Sometimes, this situation is the fault of the solution provider. Failure to educate the merchant on features that might provide additional benefits obviously results in the underutilization of the complete POS solution. Failure to provide proper training on these functions results in the same failure. Other times, the merchant is at fault by ignoring the power and potential financial gains that can be realized by taking full advantage of the power of the POS solution.
Being that this opportunity is a two-way street, we would like to offer some insight on features and benefits we see as underutilized in the field every day. In order to maximize the return on investment for a POS system, it is critical that the merchant take full advantage of all the solution has to offer. In rare occasions, there are situations where the efficiencies gained provide enough savings to the operator to justify the cost in time, energy and money used in a POS deployment. However, most times there are opportunities left on the table due to ignorance and/or underutilization of the power of POS.
The reality is that a solid POS solution should do much more than save the merchant time and money through efficiencies. The solution should also provide marketing and revenue generating functions that can transform the POS from a cost item to a profit generator. This provides the win-win scenario that all business transactions should contain. The solution provider is able to charge more for licensing and services while the merchant gains both efficiencies and ways to generate additional revenues.
Some examples of these underutilized and under-deployed functions are:
1. Email/SMS Marketing – Most independent merchants have something in place in this area. Companies like Constant Contact, MailChimp, HubSpot, etc provide powerful solutions for communicating with customers and prospects. However, merchants often fail to utilize the power of the POS data that is gathered over time. When the POS solution has its own email/SMS marketing component, extremely targeted communication can be sent based on purchase history, frequency of visit, loyalty levels, preferred products and services, etc. If no internal marketing platform exists, it is still wise for the merchant to analyze this POS data and utilize it through 3rd party providers like the ones mentioned above.
2. Gift Card Processing and Promotion – Providing gift cards through the POS system can increase revenues significantly. There are many published findings on this topic. But, it is far too much information for the purposes of this blog. However, ignoring this opportunity is like a merchant refusing to accept free money. This is also a great opportunity for gaining brand new customers when these cards are passed along as gifts.
3. Customer Loyalty Programs – Most POS solutions offer integrated customer loyalty. Some solutions provide internal programs. Others utilize 3rd party integration. Some combine the two offering complete flexibility. In any case, we have found that many merchants fail to take full advantage of these features. Whether it is time and effort or luck and happenstance that brings a customer to a merchant, the onus is on the merchant to give them every reason to return and spend more money in the future. Utilizing a loyalty program via the POS system is a simple and cost-effective way to accomplish this.
4. Integrated E-commerce – Many brick-and-mortar merchants extend their offerings to the entire planet by offering integrated e-commerce solutions. Most POS solutions provide some type of integrated e-commerce platform. However, surprisingly enough, many merchants still offer only traditional POS commerce where the consumer must have a physical presence at the merchant's location to make a purchase. E-commerce provides convenience to the consumer, extends the reach of the merchant geographically and opens the store to the worldwide audience.
5. POS-integrated Marketing/Promotional Tools – If the POS solution offers emailing of receipts, the merchant gains the power of gathering customer data for future promotion. Further, the body of the email should contain marketing messages to promote the merchant and return visits in addition to the transactional information. Customer displays attached to the POS system should promote in-store marketing messages. Paper receipts should contain some type of marketing messages. Coupons generated through the POS system can promote future visits to the establishment. The list goes on. These various items are simple yet powerful and often overlooked or ignored by merchants.
The bottom line is that the POS solution deployed by merchants should not be viewed as an expense. It can actually be a powerful revenue generator. The difference is often in proper deployment, training and the operator recognizing this concept instead of only factoring gained efficiencies into the POS ROI calculation.
To learn more about ways to maximize the power of your POS solution investment, download our free solution guide today!